Mood Media is proud to be Green Business Certified.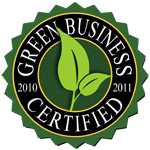 Mood Media, Inc. is pleased to announce it has achieved the designation of "Green Certified Business" from the Institute for Green Business Certification (IGBC), demonstrating their outstanding commitment to the environment, health and wellbeing of the communities they serve.
A Green initiative was launched in 2008 in an effort to reduce waste and leave a smaller carbon footprint. Mood Media is committed to make more efficient and greener choices in our corporate and regional offices. In recognizing this opportunity, Mood Media joins the ranks of some of the most innovative companies in the world who not only work smarter, but also better.
The Green Initiative Includes:
Encouraging the use of electronic versions of the collateral where possible
Going electronic on the welcome kits
Employing email campaigns instead of traditional direct mail
Reducing the use of paper products in the kitchen
Encouraging resourcefulness and recycling in all the offices
Coordinating carpools
Using Delivered GrEAn for trade show shipping when possible
Going paperless on pay stubs